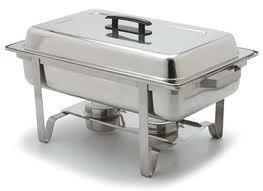 Chafer Dishes Stainless




$15.00

Please call 856-270-2497 to reserve this item.

Chafer Dishes Stainless INCLUDES FRAME, WATER PAN, AND LID. MUST BE RETURNED CLEANED WITH ALL PARTS. METAL HOTEL PANS AVAILABLE FOR ADDITIONAL CHARGE.
IF USING LARGE DISPOSABLE HOLTEL PANS (SINCE THEY ARE A LITTLE SMALLER)BALL UP TO BALLS OF TIN FOLD TO PREVENT DISPOSABLE PAN FROM FALLING INTO CHAFER DISH.
STERNO SOLD SEPARATELY