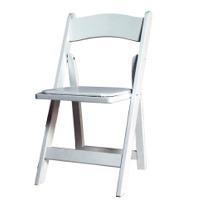 CHAIRS FOLDING PADDED WHITE RESIN
These chairs are perfect for wedding ceremony's and guest seating for weddings. Thicker and heaver than regular white folding chairs. Dress up chair with a color sash.
Customer policy: If Customer does not pay for DPR to breakdown padded resin chairs, customer is responsible to return the padded resin chairs in bags provided (bottom sticking out of bag)or on a dolly provided neatly stacked and in same direction. Additional charges will apply breakdown if Procedure is not followed.
Looking for stylish, comfortable, and versatile seating options for your next event or gathering? Look no further than our Chairs Folding Padded White Resin!
Crafted from durable and lightweight resin materials, these chairs are designed to provide reliable and long-lasting performance, while the white finish adds a touch of elegance and sophistication to any setting. The folding design makes them easy to store and transport, while the padded seat and backrest ensure maximum comfort for your guests.
Perfect for weddings, parties, conferences, and other special occasions, these chairs are sure to impress your guests and make your event a success. So why wait? Order your Chairs Folding Padded White Resin today and take your event to the next level!