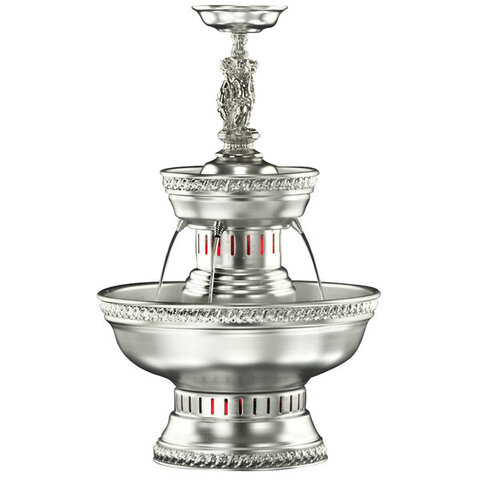 champagne fountain 3 gallon $95.00
Make a splash at your next upscale event with this Champagne Fountain silver aluminum beverage fountain with silver statue set and silver rope trim. Boasting a 3 gallon beverage capacity, this two-tiered fountain will keep the fun flowing at your banquet hall, buffet line, and other catered event! For smooth operation, this fountain features 4 spigots to continuously circulate beverage. Polished to perfection, this anodized aluminum fountain is decorated with silver accent trim and includes a complete statue set to add a decorative third level to your beverage display. Red and white lights are included and discreetly fit under the fountain's motor cover to illuminate your display.

Crafted with American made materials, our Champagne Fountain silver aluminum beverage fountain set the standard for excellence. Operating your fountain is as easy as 1-2-3! Simply fill the fountain's lower basin with pre-chilled beverage, plug the fountain cord into an outlet, and control beverage flow with an easy On / Off switch.
FUN FACTS
CHAMPAGNE IS NAMED AFTER A REGION IN FRANCE CALLED CHAMPAGNE
ONLY SPARKLING WINE MADE IN CHAMPAGNE REGIONS CAN BE CALLED CHAMPAGNE
DOM PERIGNON IS THE ORIGINAL CREATOR OF CHAMPAGNE
A POPPING OF CHAMPAGNE CORK CAN REACH UP TO 64 MPR SPEED
CHAMPAGNE WILL STAY MORE BUBBLY IN A FLUTE GLASS AS COMPARED TO A COUPE GLASS
EACH SECOND CHAMPAGNE EMITS 30 BUBBLES
THE LONGEST RECORDED CORK FLIGHT WAS 177' 9"
IN A 750 ML BOTTLE OF CHAMPAGNE THERE ARE 49 MILLION BUBBLES
MARILYN MONROE TOOK A BATH IN CHAMPAGNE USING 350 BOTTLES OF CHAMPAGNE
THE LARGEST CHAMPAGNE BOTTLE IS CALLED MELCHIZEDEK AND IS FORTY TIMES BIGGER THAN A NORMAL BOTTLE
THE VARIOUS CHAMPAGNE BOTTLE SIZES HAVE DIFFERENT NAMES, AND THEIR NAMES ARE DERIVED FROM BIBLICAL SOURCES
THE IDEAL TEMPERATURE TO SERVE CHAMPAGNE IS BETWEEN 8 DEGREES CEICIUS TO 9 DEGREES CEICIUS
THE MOST EXPENSIVE BOTTLE OF WINE COST $2.07 MILLION. IT WAS DESIGNED BY ALEXANDER AMOSU AND SWAROSKI HANDCRAFTED FROM 18 CARAT SOLID GOLD, WITH A DEEP CUT 19 CARAT WHITE DIAMOND AT ITS CENTER.
CHAMPAGNE IS ACTUALLY A TYPE OF WINE