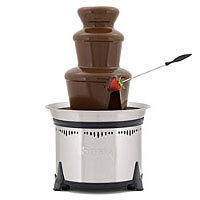 Chocolate Fountain Rental only $95
Actual Size: 19" H
Setup Area: 6' table
Outlets: yes
Attendants: yes




Chocolate fountain rental only. This efficient fountain only needs 6 LB. of chocolate to operate larger fountains need 14 to 20 LB. of chocolate to operate. Must return unit cleaned to avoid $50 cleaning charge. Price subject to change on Holidays, call for details. Check our our party packages for full service rental packages
A removable bowl for ease in cleaning. Simply unscrew the bowl from off the base and wash it easily in the sink with warm soapy water along with the center column and tiers.
The electronic temperature control panel has four different temperature settings which allow you to more easily run different types of fondue. For example: Cheese may require the temperature to be a little hotter while white chocolate needs to be a little cooler while running through the chocolate fountain.
You can melt the chocolate for the chocolate fountain right in the bowl. Just pour in the Sephra chocolate fondue chips and the chocolate will be melted in about 45 minutes. Make sure to stir the chocolate every few minutes while it is melting.
The capacity of the bowl of the Elite model is a little over 5 pounds of chocolate or fondue. This permits you to fill up the chocolate fountain at the beginning of the evening and not have to frequently fill it back up as the guests enjoy dipping. This amount of chocolate typically serves up to 40-45 guests. If adding food coloring to white chocolate it must be oil based food coloring
Three adjustable feet make it easy to level the chocolate fountain on any surface so you can obtain the classic Sephra chocolate fountain look of cascading chocolate off the three tier levels.