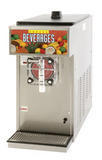 Frozen Drink Machine $175
Actual Size: w13"xD29xh27"




We only rent new and well maintained machines so you will always be happy with our equipment rentals. Each frozen drink machine rental comes with decorated cart on wheels,mixing bucket and Tiki Skirt

Cups and straws can be purchased separately, and our concentrated mix service 80 quntity -8 oz. drinks and mixes are $20 each.
Choose from a wide variety of flavor mixes Perfect choice for kid, adult party or weddings Serve with or without alcohol.No ice needed, No mess Bartenders, party chefs,and servers available upon request

Customer notes:
THIS ELECTRONIC EQUIPMENT MUST BE COVERED AT ALL TIMES UNDER TENT OR PLASTIC BAG TO PROTECT FROM WATER DAMAGE. SEE CONTRACT OR F&Q PAGE FOR COMPANY POLICIES. Machine size w13"xd29"xh27" 175 LB. comes on a heavy duty cart linen skirt available upon request,

How to operate and clean machine:
In the 5 gallon mixing bucket provided add 3.5 gallons of cold water, 1/2 gallon of mix and 1.75 L of Alcohol if desired, Pure contents of bucket into top of machine. Place white air tube into hole so product will mix properly. it's important that you stay true to these mixing instructions so that machine works properly and mix will freeze properly, Too much water or Alcohol will cause product to not freeze and damage machine

Turn machine on to the LEFT "ON " position so the mix will freeze properly

The RIGHT IS THE "CLEAN" POSITION THAT WILL START TO MELT PRODUCT.

After your event is over and before we pick up machine please empty your product out of machine it's yours to keep and enjoy during the week, rinse machine with 5 gallons of hot water and empty, it is now ready for us to pick up. if you should have any questions please call office and manager on duty will help you.