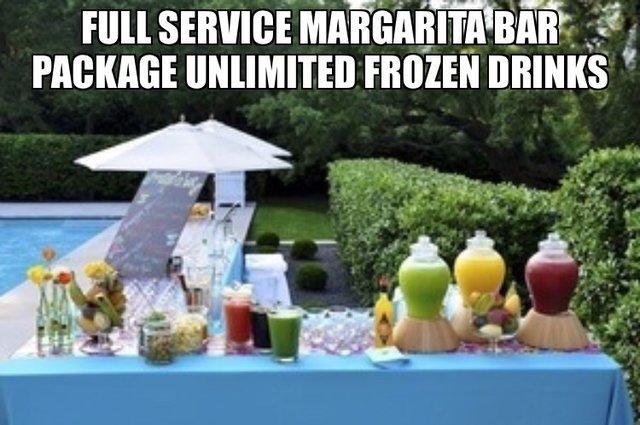 Frozen Drinks Margarita Bar Package $375
Margarita bar package includes:
Unlimited frozen drinks: Bartender 6 hours, 8' table, tiki skirt, large cooler, 3 clear display beverages ice tea, lemonade, margarita on the rocks.small tiki umbrellas. starting at 50 guests.

Our bartender will also serve your Alcoholic beverages,. Set up serve and clean up at no extra cost.

Blentec commercial blender: with frozen drink mixes including pina colada, margarita , strawberry daiquiri, hurricane, sex on the beach, watermelon, sweet ice tea, blue raspberry, root beer.
Basic package serves 50 guests
Additional guests 51-100 $100 additional
Additional guests 101-150 $150 additional
Additional guests 151-200 $ 200 additional
Customer is responsible for Alcohol, fruit garnish, ice, plastic cups, straws.

Upgrade package with glassware and flower garnish.

Upgrade package to real pineapple and coconut cups. We can supply those items for additional cost. It takes time and skill to hollow out pineapple and coconuts.
Picture for reference only from one of our high end displays.