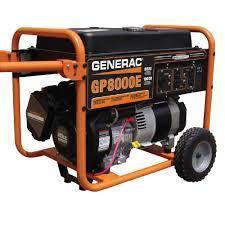 GENERATOR GENERAC 8000 WATT $175
The Generator is rented delivered fully fueled.
Customer is responsible for replacing used fuel.
Generator is to be filled with regular fuel only.
We will charge customer replacement cost of regular fuel plus+20% re-fueling fee as a miscellaneous charge.
Solve your power needs with this heavy-duty All Power America portable generator.With a 8000 Watts surge, this powerhouse can run for hours and comes with an easy-moving mobility kit.13HP 4-cycle OHV air-cooled engine , 1000 Watts, 8000 Watts surge,Runs 9 hrs at 1/2 load 7.5 gallons of fuel, unleaded fuel required Weighs 225 lbs.Mobility kit EPA Approved Solve your power needs with this heavy-duty unleaded fuel required
The Generac OHVI® enginein corporates full pressure lubrication with automotive style spin on oil filter for longer life engine.
PowerBar™ easily monitors power wattage.
Illuminated LED control panel for improved visibility.
Hour meter with maintenace resets tracks usage and monitors maintenance cycles.
Large-capacity steel fuel tank with incorporated fuel gauge provides durability and extended run times.12 hours
Low-oil pressure shutdownautomatically safeguards engine from damage.
Single touch electric start, battery included, provides hassle-free start-up.
Covered outlets provides added protection from the environment and rugged working conditions.
Full-wrap, heavy-duty, 1 1/4" steel tube cradle for added durability and strength.
Heavy-duty, never flat wheels for reliable portability.
User-friendly design has conveniently placed engine controls for simple operation and easy start-up.
Fold-down, locking handle for sturdy portability and compact storage.
Plug-in battery charger jack to keep battery charged and ready to go.
.00