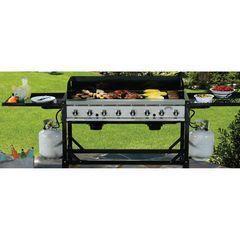 GRILL PROPANE 2' X 5' $125
Heavy-duty Event propane BBQ grill. This grill can cook up to 65 hamburgers or 126 hot dogs at once with its 1,001 Sq. In. grilling space. It has 8 burners offering up to 116,000 BTUs. grill must be returned cleaned and grease pans empty. Don't forget to add 8' prep tables, coolers, or 20 LB. propane tanks. $50 to $100 cleaning charge will apply if returned dirty.

Customer note, when lighting grill turn on one burner at a time, left side has four burners right side has four burners.SET UP VIDEO CLICK HERE


Customer pick up notes- bring 2 people to help you to load the grill because it weighs 200lbs. Also bring straps and pick up truck. Customer is responsible for any damaged to Grill and transportation or for event rental.