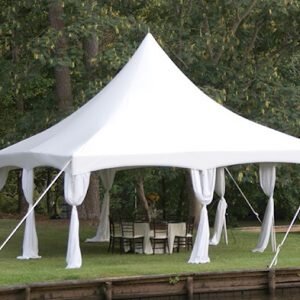 LEG DRAPES TENT POLE COVERS WHITE
Actual Size: 8.5 H X 24' W




Introducing our high-quality Leg Drapes Tent Pole Covers in white! These covers are the perfect addition to any outdoor event or gathering. Made from durable and waterproof material, they are designed to protect your tent poles from dirt, dust, and water damage.
The white color of these covers adds a touch of elegance and sophistication to your event decor, making them ideal for weddings, corporate events, and other formal occasions. The covers are also easy to install and remove, making setup and teardown a breeze.
With Leg Drapes Tent Pole Covers, you can create a professional and polished look for your event while also protecting your equipment from wear and tear. Don't settle for less, choose our Leg Drapes Tent Pole Covers in white for your next event!