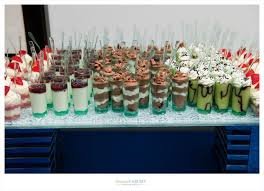 Milk Shake Bar $325
Milk shake bar dessert package includes: Bartender 2 hours (1 hr. set up, 1 hour service), 6' table, table linen, large cooler, ice cream vanilla, chocolate, wipe cream, cherry, jimmies,

Blentec commercial blender: to blend custom milk shakes to order

Basic package serves 50 guests
Additional guests 51-100 $50 additional
Additional guests 101-150 $100 additional
Additional guests 151-200 $ 150 additional


Customer is responsible for fruit garnish, ice, plastic cups, straws.

Upgrade package with glassware and flower garnish.

Upgrade package to real pineapple and coconut cups.
We can supply those items for additional cost. It takes time and skill to hollow out pineapple and coconuts.

Picture for reference only from one of our high end displays.