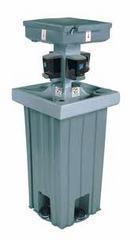 Portable Sink Hand Wash Station
Setup Area: 60 LB empty, W22.5xD22.5xH58





$175.00

Please call 856-270-2497 to reserve this item.

We are all about solving sanitary problems, and one of the biggest sanitary problems is washing facilities where there is no access to running water. The Portable Sink offered by Dayna's Party Rentals and Catering solves this problem and also fills all Health Department and OSHA requirements at the same time. Both these organizations simply state where there are portable toilets, and events where food is being served there must be washing facilities. This is easily accomplished with the portable sink, constructed of heavy duty polyethylene with four wash stations, foot pedal faucet action, built in paper towel holders, and soap dispensers. This unit is the perfect solution to solve all washing facility needs and requirements for all applications. •Fresh Water Capacity 20 Gallons •Waste Water Capacity: 22 Gallons •Water Per Use: 5 Fluid Ounces (2 Pumps) •Number of Uses: 640 Uses Approx. •Color: Granite Grey •Paper Towel Capacity: 235 Per Station. 940 Towels Total •Soap Capacity: 3 Ounces Per Station. 120 Ounces Total •Four Hand Wash Stations with Faucets •Four Built in Paper Towel Holders •Four Built in Soap Dispensers •"Hands Free" Foot Operation •Easy Refill with Hose or Buckets •Push Button Soap Dispensers •Immediate Water Stream •Drainage - On Site •High Strength Polyethylene Construction •Easy Mobility on Site with Hand Truck •No Lines (Four Stations) •User Friendly with Instructional Decals Please let our office know if we are within 100 feet from water source we will bring our 100 foot hose to fill unit. If there is now water source available we will deliver our own water. Customers to supply paper towels "c" fold and hand soap or we can supply for an additional charge.