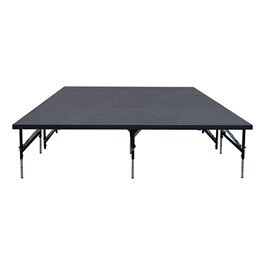 STAGE PLATFORMS -SR




$75.00

Please call 856-270-2497 to reserve this item.

Popular sizes:
8'x12' =6 SECTIONS $450
12'x16' =12 SECTIONS $900
16'x20' =16 SECTIONS $13500
20'x24' =30 SECTIONS $2350

$55 PER 4'X4' SECTION, PRICE WILL VARY BASED ON STAGE HEIGHT WHICH REQUIRES ADDITIONAL SUPPORT, SET UP AREA, STEPS OR ELEVATORS
4' X 4' BIL JAX STAGE SECTIONS ARE BLACK SURFACE AND ARE ABLE TO BE USED INDOOR OR OUTDOOR.
4' X 4' SECTIONS ARE PUT TOGETHER TO FORM VARIOUS STAGE SIZES AND RUNWAYS.
STAGE HEIGHTS ARE - 4',12", 24", 36", 48", 60" AND 72". PRICE VARIOUS BASED ON STAGE HEIGHT.
STEPS, SKIRTING, RAILINGS AND RAMPS ARE ALSO AVAILABLE TO COMPLETE YOUR EVENT.