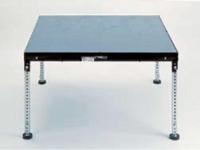 stage platforms 4-p




$55.00

Please call 856-270-2497 to reserve this item.

Popular sizes:
8'x12'
12'x16'
16'x20'
20'x24'
4' X 4' BIL JAX STAGE SECTIONS ARE NON CARPETED WITH A BLACK SURFACE AND ARE ABLE TO BE USED INDOOR OR OUTDOOR.
4' X 4' SECTIONS ARE PUT TOGETHER TO FORM VARIOUS STAGE SIZES AND RUNWAYS.
STAGE HEIGHTS ARE - 12", 24", 36", 48", 60" AND 72". PRICE VARIOUS BASED ON STAGE HEIGHT.
STEPS, SKIRTING, RAILINGS AND RAMPS ARE ALSO AVAILABLE TO COMPLETE YOUR EVENT.
Customer questions?
Explain set up area,

grass, dirt, pavor,

or concrete?