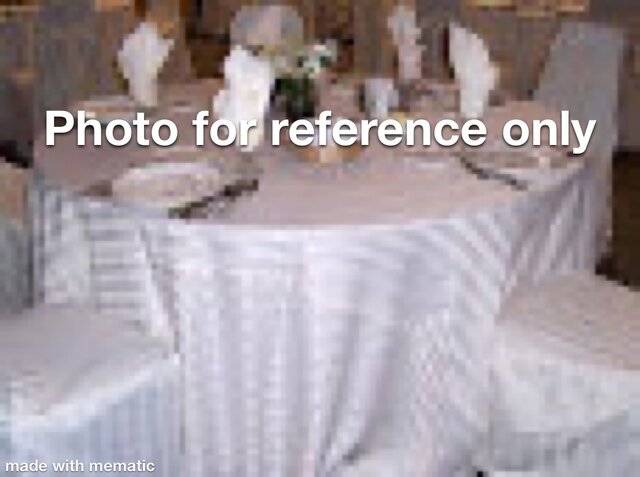 TABLE LINEN $18-ADD COLOR,SIZE, STYLE- IN COMMENT SECTION. CLICK MORE INFO BUTTON BELOW
TABLE LINEN SECTION:White polly satin strip is a sample photo, please add your color, style, size in comment section
ROUND:
108" ROUND (FULL DROP ON 30" ROUND "HIGH"COCKTAIL TBL.
48" ROUND SWEETHEART TABLE FULL DROP WITH 108" LINEN
Please type in Table linen color,qty. and sized in comment section for each table size.
For a better color picture go to http://www.eventlinenrentals.com/
Round, Banquet, Buffett, DJ, Cake, Gift,
We can discuss decorative options like chair covers, chair bows, table runners, table skirts.
NOTE ANY LAST MINUTE(7 TO 14 DAYS FROM EVENT DATE) LINEN ORDERS, CHANGES WILL BE SUBJECT TO ADDITIONAL LAST MIN. DELIVERY/PROCESSING FEE. OUR LINEN IS DELIVERED ONCE PER WEEK.
canUsePostMessagesetImmediate$0.36355886385249114$1